If you're a high achieving Kingdom woman who believes you're called to impact the world through your gifts, then you're in the right place! Hi friend! I'm Heather, teacher turned entrepreneur, coach, speaker and your host of the Seek First CEO podcast. I'm passionate about helping ambitious servant hearted women find their worth in Whose they are, not what they do. After building a variety of businesses, including an 8 figure business, it took losing it all to find Jesus' all. I was deceived for far too long believing I had to work for my worthiness, prove my value, and be the provider for all my needs. But God! When we seek God first and keep God first, we can't go wrong! As a Certified Master Neuroscience Life Coach, I help you connect the dots between Biblical Principles and Brain science so you can take your thoughts captive and be transformed by the renewing of your mind. Since I don't do surface, we go deep here and talk about the stuff underneath the surface because my prayer is to help you get to the source of your heartset and mindset road blocks so you can have breakthrough by aligning your heart and mind with Biblical truths. If your heart's desire is to grow in your relationship with Jesus, while fearlessly fulfilling your purpose and calling, then let's open up the Word together and see what the Holy Spirit has to say about living your life in F.L.O.W. with Him! Are you ready? I'd love to connect with you! JOIN OUR COMMUNITY: https://www.facebook.com/groups/seekfirstceo LEARN: www.heathershriverburns.com CONNECT: coachheathershriverburns@gmail.com
Episodes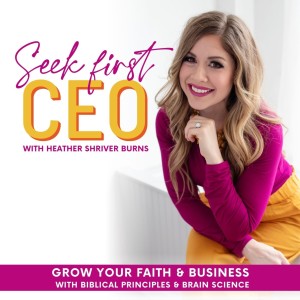 Friday Jun 09, 2023
Friday Jun 09, 2023
Do you struggle with analysis paralysis and perfectionism? YOU ARE NOT ALONE!

Have you ever wondered what the REAL reason you're not taking action to grow your business is? You know you're not lazy because you've been trying but for some reason, you can't figure out what's wrong. You have probably said something like "What's wrong with me!? Why can't I just do it?"

As a Master coach, that's what I do! I help you figure out "what's wrong" -- and the kicker is, it's not YOU, it's your thinking! I have a gift of exposing the thoughts and beliefs that are holding you back from being where you want to be through mindset, heartset, and soul-care. 

In today's episode, I help my client expose the ONE THOUGHT that is keeping her stuck! I know this episode will bless you because you are going to be able to see how powerful ONE thought can be - both good or bad. 

If you're ready to identify the REAL reason you're not where you want to be, I'm offering 1:1 Power Coaching Sessions this summer! You can book book your call today through THIS LINK.
Show Notes:
Welcome to the podcast where two passionate entrepreneurs dive deep into the challenges and breakthroughs of building a successful business.
In this episode, Heather and her guest explore a common struggle that many entrepreneurs face: feeling stuck and in need of a breakthrough.
Client opens up about her biggest challenge: taking action and being caught in a cycle of consuming information without implementation.
The conversation uncovers the underlying reasons for this behavior, including client's fear of failure and the pressure to deliver a perfect experience for her clients.
The guest highlights the common misconception of needing to be perfect, emphasizing that her role as a coach is to guide and support clients on their unique journeys.
Client begins to shift her mindset and embraces a more empowering belief system, understanding that her fear of failure stems from a deep desire to help her clients succeed.
Listeners will resonate with her struggles and gain valuable insights into overcoming analysis paralysis and perfectionism.
Join Heather and her guest as they navigate the path to breakthroughs and discover new ways to approach business and coaching with a renewed sense of purpose and authenticity.
Keywords (SEO):
Analysis paralysis
Overcoming perfectionism
Entrepreneurship challenges
Building a successful business
Coaching breakthroughs
Taking action in business
Fear of failure in entrepreneurship
Authenticity in coaching
Empowering belief system
Navigating business challenges