If you're a high achieving Kingdom woman who believes you're called to impact the world through your gifts, then you're in the right place! Hi friend! I'm Heather, teacher turned entrepreneur, coach, speaker and your host of the Seek First CEO podcast. I'm passionate about helping ambitious servant hearted women find their worth in Whose they are, not what they do. After building a variety of businesses, including an 8 figure business, it took losing it all to find Jesus' all. I was deceived for far too long believing I had to work for my worthiness, prove my value, and be the provider for all my needs. But God! When we seek God first and keep God first, we can't go wrong! As a Certified Master Neuroscience Life Coach, I help you connect the dots between Biblical Principles and Brain science so you can take your thoughts captive and be transformed by the renewing of your mind. Since I don't do surface, we go deep here and talk about the stuff underneath the surface because my prayer is to help you get to the source of your heartset and mindset road blocks so you can have breakthrough by aligning your heart and mind with Biblical truths. If your heart's desire is to grow in your relationship with Jesus, while fearlessly fulfilling your purpose and calling, then let's open up the Word together and see what the Holy Spirit has to say about living your life in F.L.O.W. with Him! Are you ready? I'd love to connect with you! JOIN OUR COMMUNITY: https://www.facebook.com/groups/seekfirstceo LEARN: www.heathershriverburns.com CONNECT: coachheathershriverburns@gmail.com
Episodes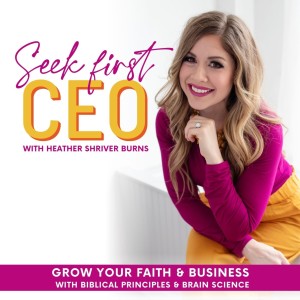 Friday Jun 16, 2023
Friday Jun 16, 2023
In this episode of the Seek First CEO podcast, Heather welcomes her friend and special guest Rowena, an entrepreneur who has embraced the use of artificial intelligence (AI) in her business. They have an open conversation about the role of AI in the marketplace and how it can be utilized to further business goals while staying true to their faith.
Rowena, originally from the Philippines and now based in Melbourne, Australia, shares her entrepreneurial journey. She initially aspired to build an SEO agency but realized it was leading to burnout and strained relationships. Recognizing that she had made her business an idol, Rowena underwent a journey of healing and deliverance, guided by her faith. She shifted her focus to using AI to assist podcasters and Christian entrepreneurs in spreading their message and achieving their God-given vision.
Heather and Rowena discuss the power of AI as an assistant rather than a replacement for humans. AI has the ability to process vast amounts of data and provide valuable insights and content quickly. Rowena emphasizes the importance of incorporating a human touch to the AI-generated content, allowing for personalization and maintaining authenticity.
They also explore the benefits of AI in SEO and content creation. Rowena mentions the AI tools she recommends, such as Castmagic IO for podcasters and Content at Scale for comprehensive content creation. These tools can streamline processes, save time, and generate high-quality content, making them valuable resources for entrepreneurs.
Throughout the conversation, Heather and Rowena emphasize the importance of aligning AI usage with their faith and ensuring it serves as a tool rather than becoming an idol. They encourage listeners to explore the possibilities of AI in their businesses while staying true to their values and maintaining their unique voices.
Overall, this episode provides valuable insights into the potential of AI in the business world, particularly for podcasters and entrepreneurs, while emphasizing the importance of maintaining a strong foundation in faith.
VIEW SEO PODCASTING CASE STUDY: bit.ly 
Connect with Rowena: bloggrowthcollective.com