If you're a high achieving Kingdom woman who believes you're called to impact the world through your gifts, then you're in the right place! Hi friend! I'm Heather, teacher turned entrepreneur, coach, speaker and your host of the Seek First CEO podcast. I'm passionate about helping ambitious servant hearted women find their worth in Whose they are, not what they do. After building a variety of businesses, including an 8 figure business, it took losing it all to find Jesus' all. I was deceived for far too long believing I had to work for my worthiness, prove my value, and be the provider for all my needs. But God! When we seek God first and keep God first, we can't go wrong! As a Certified Master Neuroscience Life Coach, I help you connect the dots between Biblical Principles and Brain science so you can take your thoughts captive and be transformed by the renewing of your mind. Since I don't do surface, we go deep here and talk about the stuff underneath the surface because my prayer is to help you get to the source of your heartset and mindset road blocks so you can have breakthrough by aligning your heart and mind with Biblical truths. If your heart's desire is to grow in your relationship with Jesus, while fearlessly fulfilling your purpose and calling, then let's open up the Word together and see what the Holy Spirit has to say about living your life in F.L.O.W. with Him! Are you ready? I'd love to connect with you! JOIN OUR COMMUNITY: https://www.facebook.com/groups/seekfirstceo LEARN: www.heathershriverburns.com CONNECT: coachheathershriverburns@gmail.com
Episodes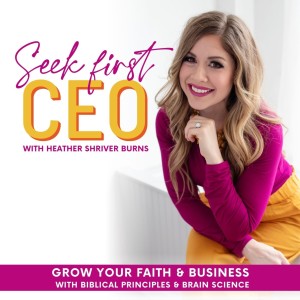 Friday Jun 30, 2023
Friday Jun 30, 2023
There are seasons in our lives as Christian entrepreneurs when dreaming with God feels effortless and exhilarating. Yet, there are also seasons when it seems daunting and even impossible. Regardless of which season you find yourself in right now, I want to remind you of this powerful truth: God deeply cares about your dreams. He delights in hearing the desires of your heart, right down to the smallest details.
In this episode, I have the privilege of hosting my client and dear friend, Melanie, owner of Anne & Grace Boutique who will share her personal journey of dreaming with God and the awe-inspiring ways He showed up in her life and business. Together, we explore the significance of mindset and heartset in the process to allow you to dream with God again!
Join us as we dive deep into the conversation, encouraging and motivating you to embrace vulnerability and pour out your heart's desires before God, holding nothing back, no matter how big or small.
If you've been settling for less than God's best and are ready to break through the limitations that have been holding you back, I invite you to book a one-on-one call with me. Simply fill out the form provided, and the Seek First CEO team will reach out to you for next steps!
You can connect & shop with Melanie through the links below: 
IG: https://www.instagram.com/ann_and_grace_boutique/
FB: https://www.facebook.com/groups/833590056716132/